Writing has helped bring me back to life
By Mike Jarrett
The life of Cynthia Reyes is a story of unrelenting determination and ultimate triumph.
Seriously injured in a car accident, the journalist and award-winning broadcaster witnessed in helpless horror as her stellar career and a happy family life seemed to crumble.
It was on a lonely country road in 2005 when another vehicle crashed headlong into the rear end of Cynthia Reyes' car. Although there were no bloody injuries, she suffered more extensive damage than even the doctors at first realised. It took some time before the full extent of her injuries was diagnosed and the resulting post-traumatic stress disorder (PTSD) identified.
Up to that time, Cynthia had already published a number of non-fiction features in Toronto Life Magazine, Toronto Star and in two book anthologies. She was a journalist on staff at the Canadian Broadcasting Corporation (CBC).  At the CBC she was executive producer, CBC Children's and Youth Programming in CBC Arts and Entertainment .  Three years later she was appointed Executive Producer, Development and Training at CBC Television. More than a hundred episodes of her programmes appeared on network television. During this period and beyond she was Canadian board member and Secretary General of INPUT (an international public broadcasting board), and was co-founder and consultant of DiversiPro Inc. – a consulting firm.
One assignment in particular stands out among thousands. In the early 1990s her boss at CBC, Les Lawrence, asked her to lead a project. She and her team, working in Canada and South Africa, guided South African radio and TV journalists in preparing for their post-apartheid role in a new South Africa. The historical significance of this assignment was not lost on the  Canadian executive producer and when she returned she admitted: "I left a part of my heart in South Africa."
Then everything seemed to crash for the Ryerson (Bachelor of Applied Arts) graduate on that regrettable evening in 2005.
Recovery was far more complex than Cynthia and her close-knit family could possibly imagine. "It was a tough time," she recalled in an interview.
"There were long stretches where I couldn't walk. And when I could walk, I couldn't talk properly. I was ashamed, so I wouldn't venture out (of the house). I wouldn't even venture out to the gate. I didn't love the house at that stage. I hated it."
INDOMITABLE SPIRIT
Fully coming to terms with her new situation and accepting what life had now presented her, Cynthia Reyes, with the care and love of a supportive family, her husband Hamlin Grange and their two daughters, began, in earnest, her journey to recovery. There was pain, emotional distress, uncertainty, fear, anxiety but through it all the indomitable spirit of Cynthia Reyes struggled and prevailed.
Her first book, A Good Home, was published in May 2013. The memoir received accolades from a wide variety of sources and repeatedly made Amazon's bestseller lists. The book tells the story of Cynthia's life and relationships in dwellings as varied as a small pink farmhouse in Jamaica, a mountainside log cabin in Vancouver and a Victorian farmhouse near Toronto.
"My stories all followed the same theme: home. I think that must be connected to the fact that I left my home in Jamaica on two weeks' notice to come to Canada. It was wrenching. So I was constantly writing about home … about Jamaica," she once said.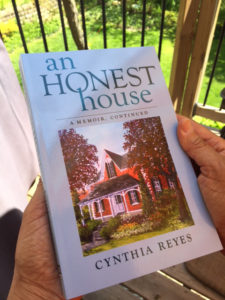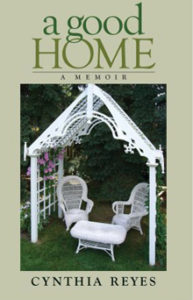 An Honest House, published just recently (May 2016), is the sequel to A Good Home. It tells the story of a family determined to find beauty, joy and faith in a life much-changed by a car accident. It is an intimate story, set in a Victorian farmhouse that was built when Canada became a nation in the late 1860s.
Co-founder of the Harry Jerome Awards and the Innoversity Creative Summit, Cynthia has won several national and international awards for trailblazing work as a leader in the television industry, including the Children's Broadcast Institute Award and the Crystal Award for Outstanding Achievement in Film and Television.
In preparing this article, I asked Cynthia two questions.
MJ: Why do you write books?
CR: I hate writing. It is back-breaking, mind-crazing work that pays the grand sum of about five cents an hour.
I don't know why I write. Except that I also love writing. There is a joy I feel when a phrase; then a sentence; then a paragraph; then a page; then a chapter — comes together. It's as if there are a million puzzle pieces, but if I choose the right ones and put them together — in just the right order, just the right angle, just the right place, I will create the most glorious picture – with nothing but words and imagination.
Mind you, what the reader takes away isn't always what I expected. An Honest House deals with tough issues – a marriage buffeted by catastrophe. But my recovery has also deliberately emphasized the three Bs – the beauty, bounty and blessings of our life. Did this come across? I think so … I hoped so. Then, in just two days, three early readers in different countries wrote to tell me how moved they were by the book. Each also expressed love for "all the great food" in it. All the great food? I honestly didn't realize there was so much food in the book till they told me!
MJ: What has writing books taught you?
CR: "Writing books has taught me that life is worth living.  The car accident smashed my life and made me want to die.  I live with pain, a head injury and post traumatic stress disorder. But being able to write again –  yes, me, a woman who could barely talk or walk some days – that has been a saving grace. Writing has helped bring me back to life and shown me that I have something valuable to contribute.
Now if only it paid more than five cents an hour!"
Cynthia Reyes has confirmed her participation in the Palaver International Literary Festival, August 6 and 7, 2016 in the beautiful Ontario resort town of Wasaga Beach (the longest fresh water beach in the world). She will share her work in the segment Books and Authors on August 7 at Wasaga Beach Area 4, immediately following the 'sumptuous feast on the beach' Sunday Brunch, catered by award-winning executive chef, Selwyn Richards.
© M.S.L. Jarrett 2016-05-22