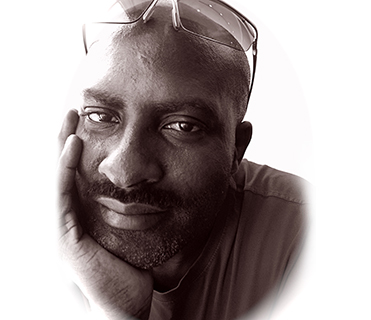 A lawyer by training and currently a research student specializing in terrorism, peace and mediation, Samuel Tabi (alias Othello) comes to Palaver 2016 with the heart, passion, conviction and dedication of a writer.
A poet, playwright, literary critic and story teller, Samuel Tabi Tanyi-Mbianyor, who arrived in Canada in 2008, discovered a penchant for writing fairly early in life. He found fascination in the written word during his years in primary school in his native Republic of Cameroon on the west coast of Africa.
A beautiful country with gorgeous beaches, spectacular deserts, majestic mountains (up to 4,100 metres or 13,500 feet), expansive rainforest and breathtaking savannas, the Republic of Cameroon came into world focus when its soccer team laid low many of the great football nations on the planet to reach the FIFA World Cup soccer quarter-finals in 1990. Images of their main striker, Roger Miller, in widely televised celebratory dance following each of his goals persist. It was a dance that was to remain en vogue throughout the world of soccer for years to come. Cameroon went on to win the gold medal in the sport at the Olympics 10 years later, thus establishing the country as one of the great soccer nations of Africa. Dubbed "Africa in miniature" because of its amazing geological and cultural diversity, Cameroon has more than 1,700 linguistic groups in a population of over 20 million.
"In secondary school, although a law student, I was a member of both the literary and journalism clubs. In the University, I was a member of the University Poetry Club and the Theatre club, where I took part in acting some plays and in poetry recitation and dramatization."
Othello is twice winner of the National Book Development Council Award (Cameroon) for poetry (1995 and 1996). In 1998, his poem Seasons of Blood was shortlisted for the BBC African Poet of the Year Award. Even after being called to the Cameroon Bar in 2003 and the subsequent establishment of a private law practice, Sam never stopped writing – poetry, stories and drama being his main focus. He is founder of The Othello Players, a Buea-based (Cameroon) theatre troupe.
"I have written two plays, yet to be published and completed two poetry anthologies," he said as he discussed his literary calling. "I can say I have a comfortable grasp of the spoken word and I am full of gusto. My stories are both long and short. Some are combined tragedies and comedies. They have thick skin and a huge heart," he said.
Having failed the entrance examinations for the School of Journalism in Cameroon, the young university graduate volunteered to work at Cameroon Radio and Television (CRTV). Between 1995 and 2000 he worked CRTV but he also wrote for many newspapers in Cameroon.
"For CRTV, I presented a bi-weekly programme called Literary Half Hour. For the print media, I wrote features articles and news stories, some of which made me stand out as a goad and gadfly."
An advocate, a Solicitor and Notary Public, Samuel Tabi is a member of the Supreme Court of Cameroon, the Cameroon Bar association, the Canadian Bar Association and the American Association for Public Administrations, Sam read law at the Universities of Yaoundé Cameroon and Toronto, Canada. His current studies in Public Administration with specialization in terrorism, peace and mediation has him enrolled at Walden University's School of Administration and Public Policy.
As Othello, he comes to Palaver 2016 to share his thoughts, ideas and values as captured in his poetry and stories from his homeland. He appears at Wasaga Beach Area 4 on Saturday August 6.
© M.S.L. Jarrett 2016-07-08