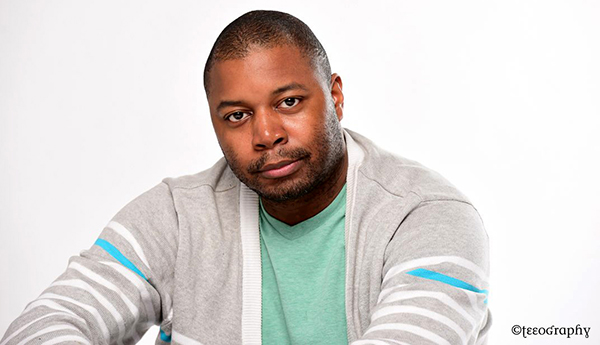 A spoken word artist for more than 20 years, Dwayne Morgan brings his work to the inaugural Palaver International Literary Festival in Wasaga Beach on August 8, 2015.
Dwayne joins a number of other published writers appearing at the festival who will personally share their work, including Owen 'Blakka' Ellis, Rachel Manley, Pam Mordecai, Olive Senior and Ewart Walters. They will all be reading at the Palaver event 'Books and Authors' at Wasaga Beach – Beach Area 4, on August 8, noon until 6.00pm
Dwayne's work and rapidly expanding appreciation have had him performing across Canada and outside of his homeland as well. He has performed in the United States, Jamaica, Barbados, England, Scotland, Belgium, Budapest, Germany, France, Norway, and Holland.
In 1994, Dwayne founded Up From The Roots entertainment. His stated mission then was 'to promote the positive artistic contributions of African Canadian and urban influenced artists'. Twenty years later, he had produced some 100 events, the largest of which are the annual spoken word concerts When Brothers Speak and When Sisters Speak; and, had received the Renaissance Planet Africa Award for Career Achievement.
Morgan is a member of the Writers' Union of Canada. A 2012 National Team Poetry Slam Champion and four-time runner up, he holds both the African Canadian Achievement Award and the Harry Jerome Award for Excellence in the Arts. He is the winner of three Canadian Urban Music Awards (2001, 2003, 2005). In 2005 he was recognized as Poet of Honour at the Canadian Festival of Spoken Word in Vancouver.
He has published 8 books, most recently his first children's book, Before I was Born.
Before that he published his memoir, Everyday Excellence (2013), Her Favourite Shoes (2011), The Sensual Musings of Dwayne Morgan (2010), The Making of A Man (2005), The Man Behind The Mic (2002), Long Overdue (1999), and chapbooks, The Revolution Starts Within (1996), and Straight From The Roots (1995). In 2009, Morgan's work was translated into French, culminating in the book, Le Making of d'un Homme.
His albums include, Another Level (1997), The Evolution (2001), Soul Searching (2003), A Decade in the Making (2004), Mellow Mood: The End of the Beginning (2007), and Idle Hands (2011). In 2008, Morgan released a commemorative DVD entitled, Dwayne Morgan The First Fifteen.