Ernie Smith has confirmed his participation at the inaugural Palaver International Literary Festival, August 8 and 9, in Wasaga Beach, just north of Toronto, Ontario.
The highly respected composer, lyricist and performer will headline the festival's Saturday night event, Palaver Sing-along, to be held on stage at the Wasaga Beach RecPlex auditorium.
The notable Jamaican entertainer goes to Wasaga Beach on a historical mission. Backed by Dizzy Minott and his aggregation and supported by a chorus of six voices, Ernie will be leading the audience in singing traditional folk songs. These songs will connect the audience with an aspect of Caribbean culture which is not often presented or shared.
BACKGROUND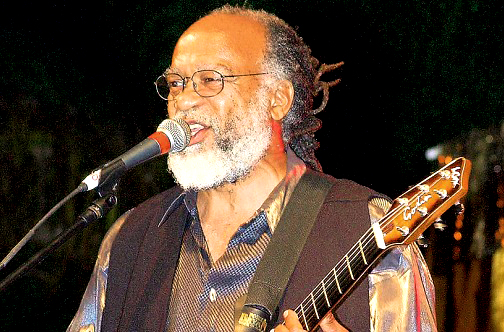 The Caribbean people gave the world new musical genres in the 20th century and names like Bob Marley, Jimmy Cliff, Peter Tosh and Arrow ("Feeling hot, hot ,hot!!") among many others made music from the Caribbean popular on every continent. They were however then the new generation. Caribbean music had attracted international attention a generation earlier when compositions of Jamaica's Lord Flea made their way into the American mainstream (night clubs, radio and Hollywood films). Harry Belafonte, who claims his Jamaican roots, released his breakthrough album Calypso in 1956 and it became the first million-selling compilation by a single artiste in the history of recorded music. Belafonte's refrain from his 'Banana Boat Song', "… day da light an me wan' go home' and Lord Flea's 'Shake Senora' and ' Naughty Little Flea ("Where did the naughty little go? Nobody know, nobody know.") revealed Caribbean music to the world in the 1950s.
These songs were inspired by the traditional folk songs which Ernie Smith and the Dizzy Minott aggregation bring to the Palaver Sing-along stage at the Wasaga Beach RecPlex on the night of August 8.
ERNIE SMITH

Ernie Smith's professional musical career began with his first recording in 1967, an original composition I Can't Take It (which was later recorded by American R&B singer, Johnny Nash as Tears On My Pillow). His catalogue spans 37 years, 12 Albums, more than 200 compositions and countless live performances. Hits including Bend Down, Ride On Sammy, One Dream, Pitta Patta and Duppy Gunman created a demand for his talents that made him one of the hardest working entertainers on both sides of the Atlantic.
In 1972 at The World Popular Song Festival of The Yamaha Foundation in Tokyo, he won the Grand Prize with his original composition of "Life Is Just For Living", competing against songwriters like Neil Sedaka, and Michael Legrand. For his historic achievements, he was honored by the Jamaican Government with the Badge of Honor for meritorious service in the field of popular music. In 1976, Ernie was forced into exile in North America because of what was considered to be controversial political commentary. His composition ("As We Fight One Another For The Power And The Glory, Jah Kingdom Goes To Waste") enraged political partisans and he had no choice but to protect his family.
While in exile, Ernie's popularity grew as he performed to audiences in North America and Europe. His political commentary and forced exile brought him new respect as an artiste. He was a favourite with audiences in Canada, a country for which he developed great respect and admiration. Critics hailed his album To Behold Jah as one of the most important albums to come out of Canada in 1979 and he is regarded by many as being most instrumental in bringing Reggae into the limelight in Canada.
Ernie Smith brings to the inaugural Palaver Sing-along a repertoire which will reveal the inner soul of the Jamaican people; the songs of their ancestors: work songs, songs for play, love songs, sad songs and songs to make you laugh.
© M.S.L. Jarrett 2015-05-24