Most gifted chef for Palaver 2015
… to present sumptuous theme-brunch Aromas from the Great House

Chef Selwyn Richard brings to the Palaver International Literary Festival the innate skills, passion, energy, creativity and schooling that have made him special. His Sunday theme-brunch 'Aromas from the Great House", August 9, 2015 at Beach Area 4 in Wasaga Beach, is therefore expected to be a very special affair. Indeed, on a recent familiarisation tour of Wasaga Beach and the site of Palaver 2015, looking across the gorgeous blue waters of the Georgian Bay, he declared: "This is going to be special."

Selwyn Richards
Selwyn Richards is widely regarded as a most gifted chef and he has the accolades to prove it.
His creations have been described as "a feast for the eyes as well as the palate" and his concoctions have impressed and satisfied all who have had the good fortune to be at his table – heads of state and humble folk alike.
Some of us are born great, while others, as the bard postulates, either achieve it or otherwise have it thrust upon them. Selwyn has been creating delightful dishes with an artistic flair for over 30 years. But whereas his skills may have been honed and polished at George Brown College in Toronto where he achieved success in Culinary Management, Chef Selwyn's creations are from another place. Divine is the word often used by those who have had the Selwyn Richards' experience.
Early in his career, at the Food & Wine Show in 1987 (Escofier Society, Toronto), Selwyn was recognized for showcasing excellence in the culinary arts. He was awarded two silver medals and one bronze. In April 2014, the Black Business and Professional Association honoured him with the Harry Jerome Business Excellence Award for his stellar achievements as Chef and Entrepreneur.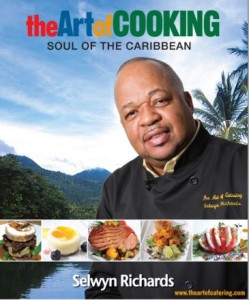 He is currently the CEO of one of the province's leading catering houses The Art of Catering, which he operates with his two brothers Lennox and Travis. He is also the corporate Chef for Grace Kennedy (Ontario).
In February 2014, Selwyn Richards celebrated the launch of his first book The Art of Cooking: Soul of the Caribbean. The book guides the reader through the many styles, nuances and recipes of Caribbean cuisine, providing both novice and experienced cooks with information, ideas and tips about ingredients, methods and style. His encyclopaedic knowledge of spices and rapt attention to detail in preparation are reflected throughout the book.
His electronic newsletter The Catering Bite has been in circulation since 2010 with a mailing list of some 5,000. And his work and commentary are frequently featured in local newspapers and magazines in Canada and elsewhere.
Chef Selwyn Richards has appeared on Food Network's series – I Do, Let's Eat; Life Network's Rich Bride, Poor Bride and Soul Food on BET Network/Showtime. His work has also been featured in movies such as American Pie5, Cheaper By The Dozen 2, Covert Affairs, Nikita, Defiance, Suits and other film and TV productions.
A dedicated community leader, Chef Selwyn sets aside time to participate in a host of non-profits events, school functions and public speaking engagements.
Chef Selwyn Richards strives for excellence in all things culinary. It is this passion for excellence – in literature, music and cuisine – that the Palaver International Literary Festival celebrates and promotes.
M.S.L. Jarrett, 2015 June 26