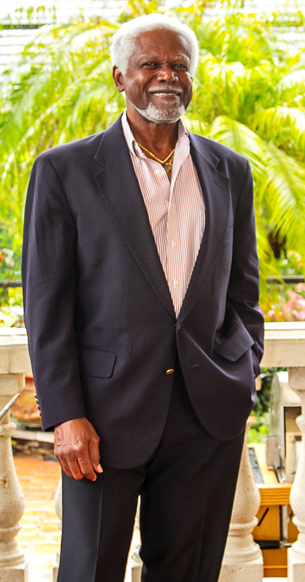 In 2010 when Owen Everard James published 'Jamaican by Birth, American by Choice' he finally entered a world that he had viewed from his window since he was a young boy growing up in Jamaica. He had always loved to write. However, his first attempt at being published in the local newspaper failed.
The disappointed adolescent writer remained undaunted. He successfully pursued academic programmes that had him graduating from the Mico University College (then The Mico Teachers' College), the oldest teacher training institution in the Western Hemisphere and the Anglophone world; and subsequently, from Howard University in the USA where he made the honors list. He earned a diploma in Production Management from the Institute for Advanced Technical and Vocational Training in Italy and went on to an illustrious professional career that saw him at various times as a teacher, civil servant, banker and restaurateur and, for nearly 30 years, as a manufacturing executive with a Fortune 500 American multi-national corporation. In pursuing a multi-faceted career, he lived and worked in the Caribbean, Canada, the United States and East and Southern Africa before he and his wife Icy retired to Orlando, Florida. They have two adult sons and two granddaughters.
Despite a very successful career in industry, on both sides of the Atlantic, Owen James never lost his bearing as a writer. "I discovered", he says, "that writing, unlike simple speech, is much more likely to have extended life and therefore extended influence. Above all, its integrity may be violated by others only with the greatest of effort. In this respect writing also appears to be among the most superlative of ways in which to bare and share one's soul even to one's self."
Owen James has bared his soul in his writings. He regards 'Jamaican By Birth, American By Choice' as "pivotal" because, not only did it reveal some truths which he describes as "testy" and "alarming", but it allowed him to create "substantial linkages" between the past, present and future.
His second book, 'Brackets', published three years later in 2013, is a book of poems. Writing can be as energizing as it can be cathartic and Owen James has no doubt that 'Brackets' is the most cathartic of all his books. "It tested my imagination the most," he says.
'Sufferers Manifesto', "… a challenge to the best in us and among us", which the author describes as "the most polemical" was published in 2014. It addresses directly the contentious issues facing Jamaica and nearly all underdeveloped, so-called Third World countries. This work, says the author, remains the most challenging of all he has written insofar as it brings into sharp focus the "congruent dilemmas' of nearly all Third World nations. 'Sufferers Manifesto' challenges all Jamaican or Third World power brokers who dare to read it, be they politicians or entrepreneurs, James says.
Owen Everard James comes to Palaver 2016, leaving work in progress on his desk. Like all authors, he doesn't speak much about this work in progress. The working title is 'Pebbles and Pearls and Perspective'. Although he has collected and identified most of the material for this work, he prefers at this stage not to discuss form or structure. It is expected to be published in 2017.
Pressed, he says: "It is quite philosophical in nature, dealing as it does with an attempt to address the fundamental issues of life, living and death … even if one accepts the reality that a settled or satisfactory understanding of these existential concerns is perhaps unlikely, if not altogether futile."
Owen Everard James travels from Orlando, Florida to Wasaga Beach, Ontario to bare and share his soul at the second Palaver International Literary Festival, August 6 and 7, 2016.