Story-teller par excellence for inaugural Palaver literary festival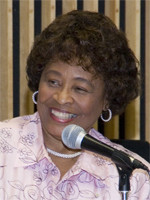 Known internationally as a gifted story-teller, Rita Cox is an educator, activist, pioneer, a leader and a patriot.
She was made a member of the Order of Canada and, in 2000, was appointed a Citizenship Court Judge by the Government of Canada.
Widely recognised and celebrated for for her pioneering accomplishments, she has held board and committee memberships in many arts and community organizations and is widely recognized for her accomplishments. She was appointed to the Board of the Ontario Arts Council in 2004 .
She holds two honorary doctoral degrees, conferred by Wilfrid Laurier University and York University and is recipient of many achievement awards including the Commemorative Medal for the 125th Anniversary of Confederation awarded by the Canadian Governor General.
She served as Head Librarian at the Parkdale branch of the Toronto Public Library, for more than 20 years, pioneering several arts and literacy programs. She established Cumbayah, a festival of black heritage and storytelling and her lifeΥs work as enlightened, educated and empowered Canadians and citizens of the world. She has performed across North America, in Europe, Brazil and the Caribbean, on stage, radio and television. A number of her stories have been published, including her own children's book entitled How Trouble Made the Monkey Eat Pepper.
In 1973, Dr. Cox pioneered the Black Heritage and West Indian Resource Collection, which was renamed the Black and Caribbean Heritage Collection in 1998. It soon became one of the most comprehensive collections of its kind in Canada with over 16,000 titles.
During her tenure, Dr. Cox launched literacy programmes and other initiatives that promoted multiculturalism and literacy throughout Toronto.
She has also maintained the Library's storytelling legacy by training a whole new generation of storytellers, many of whom are current library staff.
In this regard, she has won numerous awards, including the 1996 Canadian Library Association Public Service Award and the Black Achievement Award.
Dr. Cox teaches courses, leads workshops and seminars and performs for adults and children. She has been on the Board of the Storytellers School of Toronto and has served as chairperson. Her stories have appeared in many anthologies and school readers. She tells stories from the Caribbean, Africa and around the world and brings her knowledge, wit, talents and insights to launch the Palaver International Literary festival. She performs at noon on August 9 at the festival event OlΥ Time Story, at Wasaga Beach – Area 4.